To hide a visit, first select the visit you want to hide on the 'visits' screen of the app. Tap the visit to view it and, when inside, tap the three dots menu icon, placed on the top right on your screen.
Arke will display a prompt with a few options, including 'Hide'.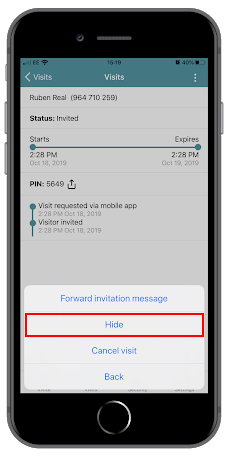 Once you select 'Hide' from the menu, you will receive a pop-up notification advising that the visit will be hidden on your device and will be reset once you log out and log in again. You will need to select 'Hide' from this new pop-up to fully hide the visit from your device until you log in again.
Note: visits will remain logged in the main Arke account and the access control system of your estate or premises in accordance with the retention policies of your security team.