Hosts in Arke are people that invite visitors; the users of your system.
There are two ways to add hosts in Arke:
Synchronising users from Net2
Manual adding of hosts in the portal
Synchronising hosts from Net2
Synchronising hosts from Net2 is a powerful way to manage your visitors within Arke, as well as easier to manage than manually adding people through interface.
There are two elements to user configuration in Arke:
Arke portal configuration
Net2 user configuration
Arke portal configuration
Go to Settings > Hosts to see the host synchronisation settings: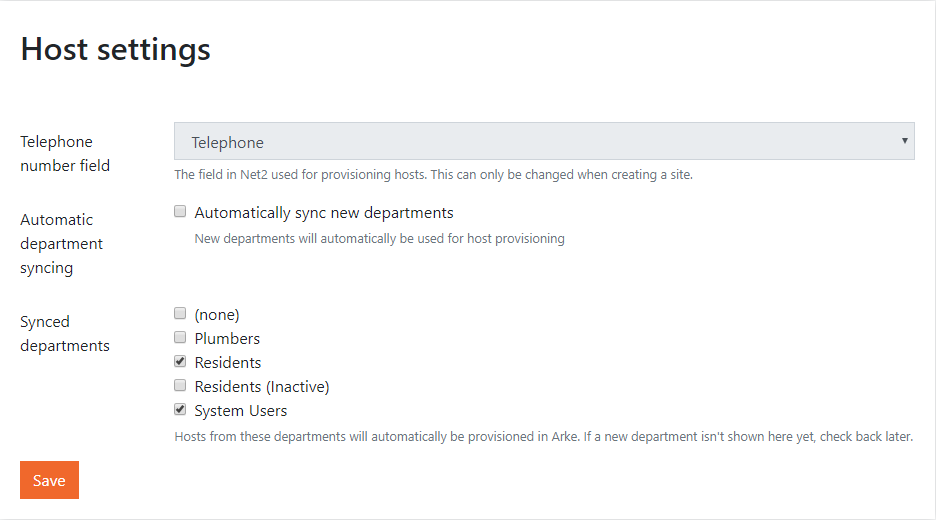 On this screen you need to take not of the telephone number field that is shown greyed out, this is the field you will need to add for your hosts.
Next select the departments that you want to select. You may also wish to tick the 'Automatically sync new departments' setting, which will mean that as new departments get added to Net2 they will automatically be set for synchronisation.
Now, you can go to Net2 to set your users up.
Net2 user configuration
Users get added from Net2 as hosts in Arke when they are configured in the following way: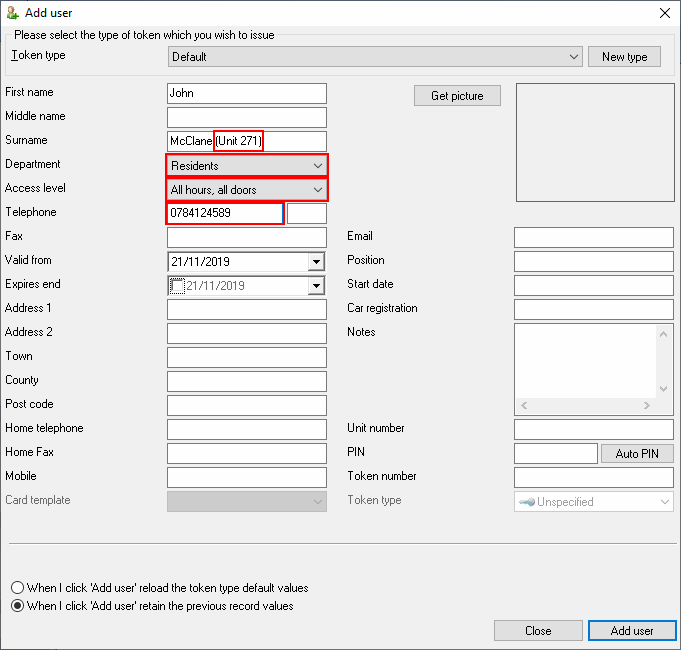 Users need to have:
A department that matches the ticked department that was setup on Arke
An access level that is not 'No access'
A valid phone number that is in the same field as shown in Arke
It is also useful to add the unit/house number of the resident to their surname (when you are running a residential site)
Once a user has these and they are added to Net2, they will be automatically added into Arke and sent a message advising them where to get the app.
If any of the fields above, apart from the name, are changed then the user will be desynchronised from Arke. This means you can move users from Net2 into different departments, remove their phone number and change their access level to 'No access' to revoke their Arke access.Manual adding of hosts in the portal.
Note: hosts added from Net2 cannot be removed from within the Arke portal, they must be removed from Net2
Manual adding of hosts in the portal
To add hosts via the Arke portal, go to Hosts in the Arke portal and click 'Add host' in the top right. Enter their details and they will be added to the system.
Note: we do not recommend this method for estates or residential customers